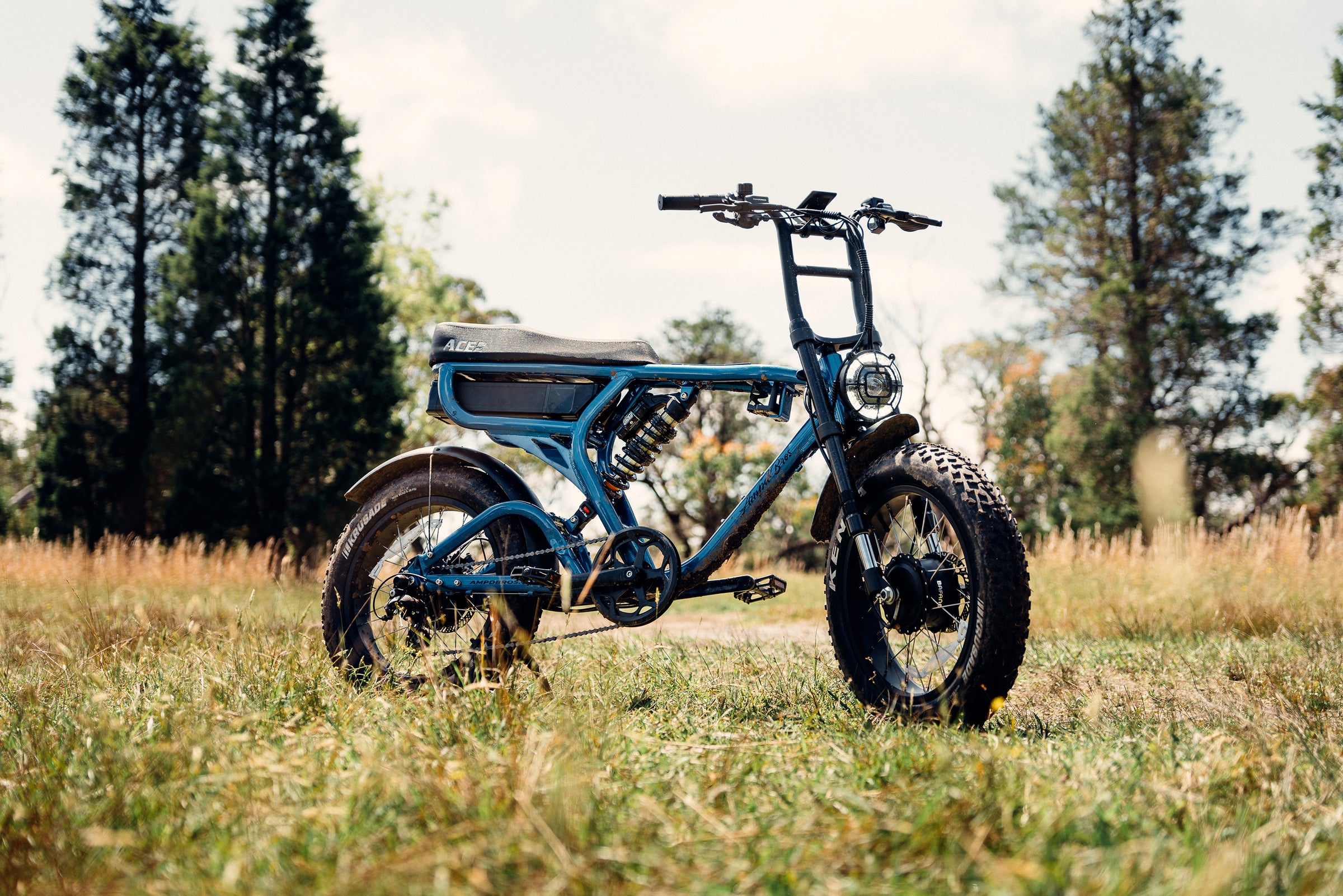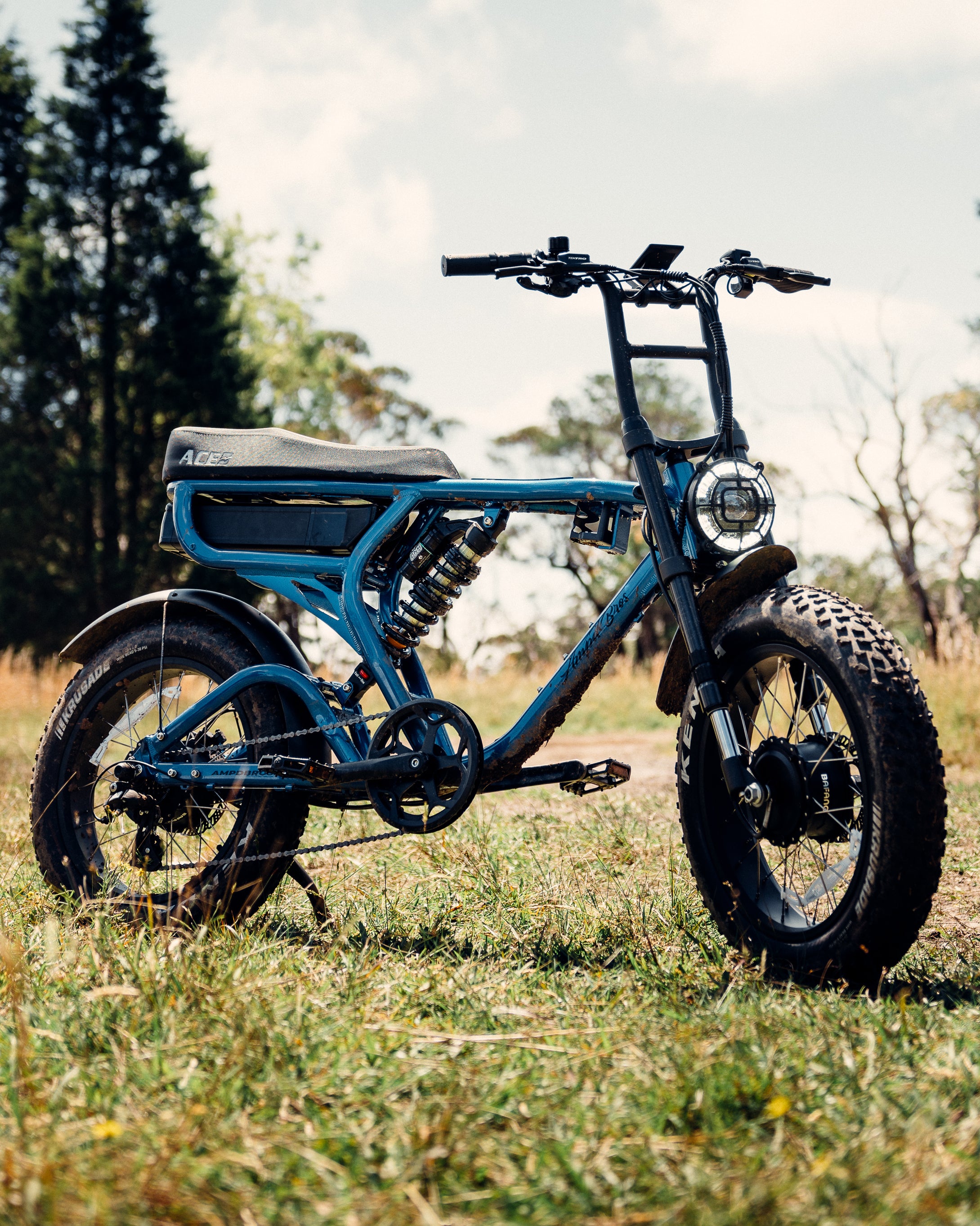 DUAL SUSPENSION,
DUAL MOTOR BEAST!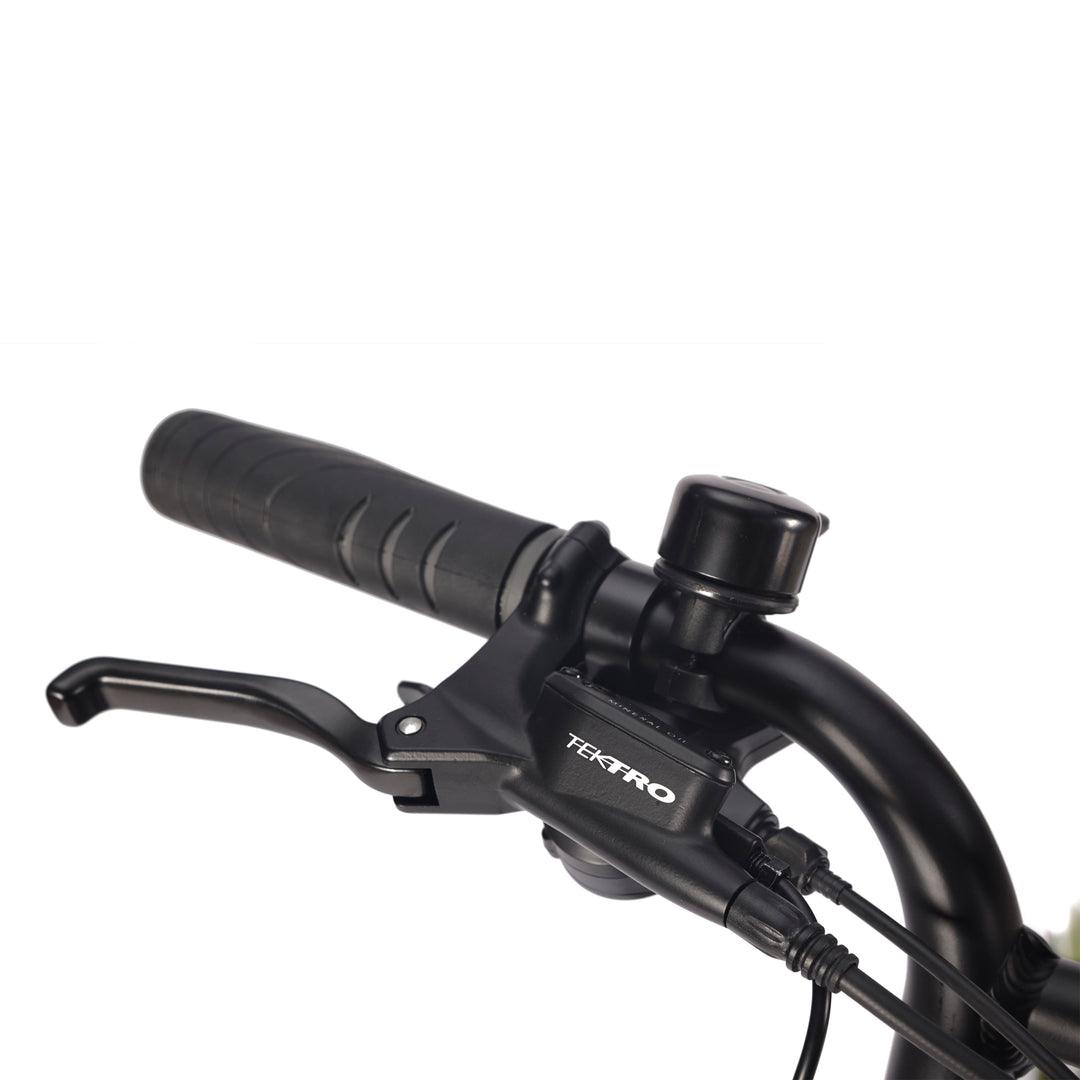 Front & Rear
Dual Suspension
Insane 2,000W
All Wheel Drive
---
OVERVIEW
Introducing the all NEW MKII - ACE-X DEMON AWD Dual Motor Electric Bike - Get ready for an exhilarating journey! 🚀 Inspired by our renowned ACE-X Model Range, the ACE-X DEMON is a high-octane marvel loaded with an array of exciting features.

Diverging from its predecessor, the ACE-X PRO, the MKII DEMON is a true powerhouse. It boasts Dual 1,000W Motors, combining to produce an astonishing 2,000W of power! But there's more to it than just that - we've integrated Dual Suspension and an insanely bright 1,700 lumen Headlight, elevating your ride's comfort and visibility to unprecedented levels.

Designed in-house by our family team and celebrated as Australia's original and favorite fat tyre electric bike, the ACE name has evolved significantly since its debut in 2019, and this year it arrives with even more fresh updates! Take a look at what the MKII ACE Demon Bike now brings to the table:

- All New Blue Lightning Finish Colour way
- 2024 Bafang Latest Generation G063 Series 1,000W Motor
- Advanced Custom DNM Suspension for enhanced performance
- Stylish New Color Options for a personalized touch
- Upgraded Docking Station featuring an All-New Aluminum Battery and Smart BMS
- Ampd Bros Custom Controller for unmatched power and cutting-edge motor control

Embark on any adventure with the ACE-X DEMON, featuring our iconic high cross bar "X" frame design, an adjustable top coffee cup/bottle holder, a spacious two-person seat, and a massive Removable Samsung Battery 💥 that delivers an astonishing range on a full charge. Combined with Bafang's High Torque Motors, your exploration knows no boundaries!

Fearlessly conquer any terrain with a staggering 190Nm of Combined Torque, whether you're tackling beaches, hills, dirt tracks, grass, or pavement! The standard Pedal Assist ensures effortless cruising, but with our Off Road Throttle Kit, you can glide effortlessly. The 7 Speed Shimano Rapid Fire trigger shifter and altus transmission ⚙️ provide lightning-fast gear shifts for precise control.

Crafted from lightweight aluminum, this bike not only resists rust but also effortlessly handles demanding conditions. Even if you run out of charge, you can keep riding without a hitch!

Experience unparalleled freedom with the ACE-X DEMON - effortlessly switch between motors using the 3 Way Motor Switch! Choose to ride with the Front Motor Only, Rear Motor Only, or unleash the Dual Motors for a dominant hill-climbing performance! 🏞️💨

Checkout the Range of Options & Accessories for your New ACE Bike or need help customising your bike? Speak to our Friendly Team on what works best for you.
KEY FEATURES OF ACE-X DEMON:
21AH Samsung Battery

Up to 90km Range
Step Over Design Frame
AWD Front & Rear Drive 
Dual Bafang 1,000W Motors (Total 190NM - 2,000W) 
Up to 50km/h+ (Off Road Private Property Use Only)
Tektro Hydraulic Disc Brakes

MKII Models with 1,000W Motors will be available for Sale from 8th September onwards. Please note that this Electric Bike is exclusively designed for Off Road Use Only.
ACE PRO MKII & DEMON BIKES
Speed & Range
Range 90km* (Single Motor Only)
Pro MKII Top Speed 25km/h (or Unlock up to 50km/h for Private Property Use)
Demon MKII Top Speed Up to 50km/h+ (Off Road Private Property Use Only)
Battery
Standard 48V / 1,008Wh, 21AH
Samsung Premium 21700 Lithium cells
Battery is removable and can be charged in bike or separately. 
Ride Modes
Mode 1 Pedal Assist mode: Adjustable pedal assist performance settings from 1-5 or can also be changed to 1-3 or 1-9
Mode 2 Walk mode: Idles bike up to 6km/h to assist with moving bike by holding the "-" button on the keypad
Mode 3 Throttle mode: Available when Optioned with the Off Road Throttle Kit
Features
Hill Ability

 

Up to 30º Degree / 60% Incline PAS
Seat

 Custom Large Dual Seat for 2 Riders

Warranty 2 Years
Waterproofing IP65 on Bike, Motor etc (excludes Battery)
Ace Pro Headlight Standard 220lm LED Light with DRL
Demon Headlight Upgraded PRO Front LED 1,700lm Headlight with DRL 
Lights Rear LED Brake Light inbuilt to battery pack
Grips Velo Wide Comfort
Bell Yes
Brakes
Standard Tektro Hydraulic Disc
Discs 160mm
E-Brakes Yes Motor Safety Cut Off
Display
Colour Upgraded Multi-Function with USB, ODO, Trip, Battery Level, Speed etc
Controller
Ampd Brothers Custom - Best-in-class power density and state-of-the-art motor control algorithms.
Drivetrain
Motor Type Bafang RMG 062D & 063D Latest Generation

(Released 2023)

Ace Pro Motor Single Rear Hub Drive 1,000W
Ace Demon MKII Motors AWD Dual Drive Hub 1,000W Motors Front & Rear (2,000W Total) 
Ace Pro Torque High Torque 95n.m
Ace Demon Torque High Torque 190n.m (Combined)
Transmission Shimano 7 Speed with Rapid Fire Micro Shifter
Derailleur Shimano Altus
Pedals Wellgo Alloy - Black
Chain KMC Z Series High Performance
Construction
Frame Aluminium - "X" Step Over Bar Design
Handlebars Aluminium Motorcycle Inspired with Adjustable Height 
Fenders Matte Black Aluminium
Suspension
Standard Front Independent & Rear Adjustable DNM
Wheels & Tyres
20x4.0" Kenda Krusade Fat Mud Tyres
Charging
12hrs+ 21Ah Batteries with Standard 2A Included Charger
Optional 5A Fast Charger Available
Dimensions
Overall Length 1,800 mm
Handlebar Height 1,140 - 1,190 mm
Handlebar Width 660 mm
Seat Height 850 mm Fixed Height
Seat Length 600 mm 
Ground Clearance 270 mm
Wheel Base 1,160 mm
Rider Height Ideal for Riders up to 200cm Tall
Weights
N.W of 21Ah Battery 5.06kg

N.W of Bike 45 kg
Max Loading 150 kg
Inclusions
In Box Bike, 48V Battery, 2A AUS Charger, Front Headlight, Basic Tool Kit, Manual, Pedals, Fenders, Seat & Kick Stand.
*Range Achievable may vary based on loading, motor use, throttle/pas, terrain, weather conditions and many other factors. 
ACE Models - So whats the deal?
With more features than a stuffed mexican taco - ACE has something for everyone to love. Here's what you need to know about the ACE Range...

What does X & S mean?
X means "Cross Bar Step Over Frame" and
S means "Step Through, Low Bar Frame"
ACE VS ACE Plus+
Standard "ACE" Consists of a 500W Motor, No Suspension and a 15AH or "60km" Range Battery Pack where,
ACE Plus+ Models Consist of the same features as the standard ACE range but instead with 750W Motor, Front Suspension and a 20AH or "80km" Range Battery Pack
ACE-X Classic Series
The ACE-X Classic features the same specifications as a Plus+ Model, but with a few differences primarily in styling such as;
Unique Paint Finishes exclusive to the Classic Series Only
Bafang 750W Motor
Unique Brown Accented Seat/Grips
Unique White Wall Street Tyres instead of Kenda Mud Tyres
ACE-X Pro Series
The ACE-X Pro series is the entry level model into our dual suspension line. The Pro also receives a bunch of upgrades from the Plus+ Series including;
Unique Paint Finishes exclusive to Pro Models Only
Upgraded 1,000W Rear Hub Drive Motor
Upgraded Display to a Full Colour LCD
Upgraded to Dual Suspension with DNM Rear Shock
Upgraded Battery Pack to 25Ah with up to 100km Range
ACE-X Demon Series
The ACE-X Demon series is the bigger brother of the ACE Pro, consisting of much the same bones as the Pro, although with some major bonus'...
Unique Paint Finishes exclusive to Demon Models Only
Upgraded from Single Motor to Dual AWD Hub Motors (1,000W Front & Rear - Total 2,000W)
Upgraded Headlight to our Extreme 1,700lumen LED Light
Here at Ampd Brothers we stand behind all our products nation wide regardless of where you live so you can rest assure knowing your purchase comes backed by a renowned Aussie Retailer.


2 Year's on 2023 Ampd Brothers Electric Bike Models (1 Year on Batteries) Sold from December 1st 2022 onwards
1 Year

 

on Pre 2022 Electric Bikes, Stacyc, Surron, KAA Sumo, Electric Scooters & Vortex Skateboards
6 Month's on Products Sold as "Ex-Demo" or "Ex-Display" items
3 Months on Refurbished or Repaired Products
3 Month's on any Parts & Accessories*
Our Extensive Warranty applies Australia Wide for all our products. *T&C's Apply for full information on Warranty & Returns Click Here.
30 Day Ride Guarantee & Returns
We are so confident in our products that we offer a Ride Guarantee, which ensure's that should you not be satisfied with a quality, manufacturing or not fit for purpose related issue on the product purchased it will be rectified or if the item is new, un-used and still in packaging it can be returned for a full refund.
External causes/matters or changes of mind are not applicable under this guarantee for return or refund. 
If 30 days have gone by since your purchase, unfortunately we cannot offer you a refund or exchange.
Please see the Full Terms & Conditions on our Returns and Warranties Page
Domestic Australian Shipping
We Ship 🚚 FREE in AUS for orders over $100! For orders under $100 a Flat Rate of $8 will Apply. More options and express services are available at the Checkout. This includes Free Delivery on all E-Bikes, Skateboards & Scooters (under 50kg)!
Christmas Delivery
For all Christmas deliveries please take note that no Small Articles will be guarantee'd for Christmas delivery from DEC 15th. For all Bikes and bulky Articles will not be guarantee'd from DEC 8th (WA,NT & TAS will not be guaranteed from December 1st) so be sure to place any orders before these periods or visit a local store for availability in your area.
*Free Shipping Exclusions:
Any Orders under $100 or Oversized Items Over 50kg will incur a $199 Freight Fee to WA, TAS & NT. Items in particular to this surcharge are Sur-Ron Motorbikes & Sumo KAA Speed Fat Boy Scooters.
Fee's will also apply to Australian Remote Locations. Eg. Broome, Macquarie Island, Lord Howe, Thursday Island, Kangaroo Island, Russel Island, Rottnest etc) and we reserve the right to cancel any order to such location or adjust shipping fee's where necessary, we recommend Contacting Us for a Quote if you believe you may be subject to such charges.
Delivery Times vary from 2 ~ 14 Business Days (Excludes Public Holidays & Peak Periods). Remember - Large and Bulky items require more manual handling and may not arrive on estimated delivery day provided by couriers as these dates are based on Small Items.
*Additional Fee's May Apply for Missed Deliveries - Please Ensure you ship to an attended address to avoid any missed delivery.
All orders are packed and shipped securely boxed and items such as bikes, scooters or SurRon motorcycles will require some assembly and/or fitting - refer to our assembly page for assistance, or contact your local dealer to book in for assembly (Assembly fee's may apply).
Note: We do not Ship Large items to any P.O Boxes or Parcel Lockers. (Small Articles can be delivered to P.O Boxes via AusPost when selected at checkout)
International Shipping
Currently we only ship Selected items to New Zealand, UK, Europe and USA for shipping prices please refer to the checkout or Contact us for a Quote. All Prices & Rates are charged in AUD$ and exclude any import taxes or charges.
For full details on Shipping & Delivery please refer to our Shipping Page or Contact Us if you are not sure.
Built with the Best
Upgraded LCD
Colour Display
Exclusive to Ace Pro & Demon Series only, our Custom LCD Colour display features a bunch of awesome functionality such as Automatic sensing headlights, estimate range remaining, battery and motor usage and more!
Premium
21700 Battery
Our latest 2nd Generation aluminium battery now features Premium Samsung 21700 Cells, improved water resistance, better docking station and a completely new BMS with Auto Sleep mode to protect your battery! It is also completely removable, lockable, has an integrated battery level indicator aswell as a Brake Light function!
Dual Bafang
AWD 1,000W Motors
Yep, not just one but 2 Motors! As the industries leading manufacturer of e-bike motors, it makes sense to partner with Bafang. Known for their huge levels of Torque and Performance, the 95n.m Gear Drive hub motor will challenge all expeditions with ease with a total combined output of over 2,000W! Note: For Off Road Use Only.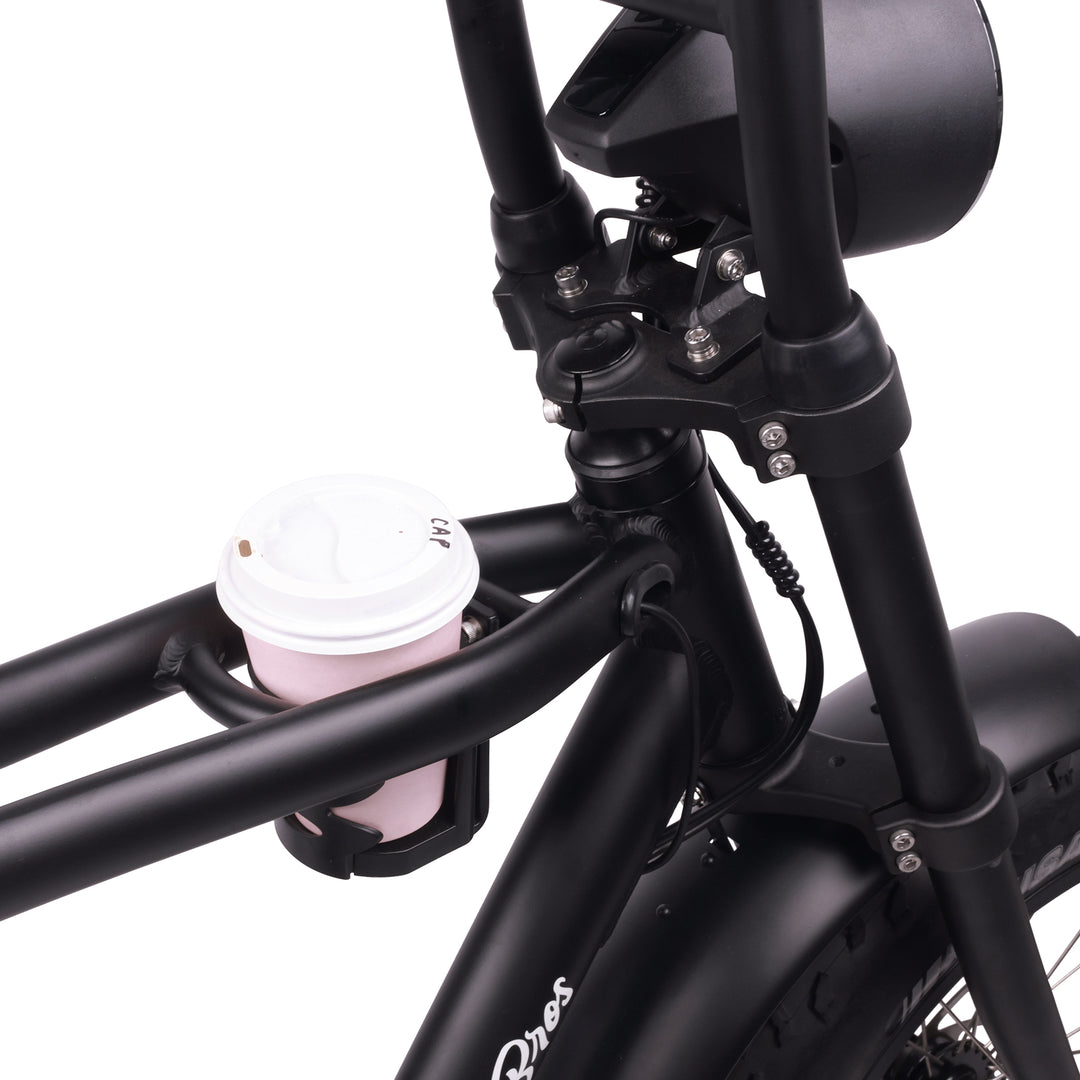 Frame mount
Top Cup Holder
A signature and an essential addition to the ACE-X model range. Carry your morning brew easily with the Frame mounted Cup Holder which is completely adjustable for those larger bottles or smaller coffee cups! Note: Not available on ACE-S Models
1,700 Lumen
PRO Headlight
Our most powerful headlight yet! The PRO headlight is exclusive only to the Ace Demon series and features a Daytime Running light as well as a powerful low beam. The Pro light is capable of 1,700 lumens output, ideal for the darkest expeditions.
On all our Ampd Bros Demon electric bikes you'll find almost everything you need to get started, even a Pump! You'll also find...
Your Bike
Fenders
Pro 1700lm Headlight
Bonus Free Ampd Bros Carry Bag with all your gear inside! Such as..
Tyre Pump
Suspension Adjustment Tool
Basic Tool Kit
Standard AU Charger
Instructional Manual with links to Instructional videos
Plus a Bonus Ampd Bros Sticker!
You won't get that kind of love with other brands!
To simplify the Ace 2024 model range..
X = Cross Bar Step Over Frame
S = Step Through Low Bar Frame
Standard ACE Models:
15AH - 60km Range Battery
Hydraulic Brakes
No Suspension
Rear 500W Motor
ACE Plus+ Models:
20AH - 80km Range Battery
Hydraulic Disc Brakes
Front Suspension Included
Rear 750W Motor
ACE Classic Models:
17.5AH - 70km Range Battery
Hydraulic Disc Brakes
Front Suspension Included
Rear 750W Motor
White Walls & Classic Accents
ACE PRO Models:
21AH - 100km Range Battery
Hydraulic Disc Brakes
Dual Suspension
Rear 1,000W Motor
Upgraded Colour Screen

ACE Demon Models:
21AH - 100km Range Battery
Hydraulic Disc Brakes
Dual Suspension
Dual 1,000W AWD Motors
Upgraded Colour Screen
Upgraded Headlight
Yes sure you can unlock your bike to the maximum speed the motor is capable of producing. But take note of the regulations in your area as doing so may deem your bike legal for off road private property use only. Be sure to check the speed limit in your area but typically speaking exceeding 25km/h is not legal practice in most states.
Yes sure! We do have them available as optional accessories here, but keep in mind throttles are only legal on Private Property only hence why we do not include them with any of our bikes.
In virtually all states you do not need a licence or require any registration to ride an E-Bike, although if you are found to be riding under the influence of alcohol or exceeding the 25km/h speed limit for example, you may be penalised against your drivers licence.
All Australian states follow the same basis of rules which are established off the European standard EN15194.
In essence all e-bikes must;
Not exceed 250W (Some states eg. NSW is 500W)
Be propelled purely by pedal assist only and the pedals have to be used to keep the motor operating (a pedalec)
Must not be operated purely by Throttle
Must not be capable of exceeding 25km/h
Abide by local law such as, wearing helmets, riding within speed limits in set areas etc
So the short story is that e-bikes are legal to use in Australia yes!
Be sure to check with your local authority as to any other regulations in your area.
All our E-Bikes come securely boxed and are shipped 80% assembled and do require some assembly. Should you need assistance you can checkout our YouTube for assembly videos or you can also refer to a store near you for bike builds and service.
Generally bike delivery will take longer than most small size articles as they are bulky and require more manual handling so on average to most major cities is approx a 5-10day delivery time. For more rural areas and NT, WA or TAS you should expect to see 14 days or more for your order to arrive.
We have a bunch of dealers across Australia who carry our range and provide after sales support. Checkout our list of dealers here and be sure to give them a call to check stock availability, they may even be able to order a bike in for you to view otherwise. If not be sure to call us and we may be able to arrange for you!
All our Ampd Brothers range of electric bikes come backed by our 2 Year Nation wide warranty! So you can ride worry free always!
Checkout the full terms and conditions here.
Our bikes are resistant to approx IP65 and are extremely weather resitant to rain etc. however as best practice we always advise to avoid water as much possible as even though they are extremely capable, water can create a lot more maintenance than necessary sooner rather than later!
Unfortunately we only offer selected tyres pre-installed as standard on our bikes. However we do have a huge range of tyres available as additional parts for all our bikes including street, mud or even white wall tyres!
Checkout the tyre range here.
Demon ace dual
Love the bike, easy to assemble
Ace Demon MKII does not disappoint!
I know that Amp'd Bros claim that the dual 1000W motors in the Ace Demon MKII eats hills for breakfast, but I didn't expect just how easily it would pull my heavy frame up some of Hobart's steep hills! The suspension makes for such a smooth off road ride and the big comfy seat is great for a long cruise along the waterfront tracks. If you're on the fence about getting one, just do it.
Demon X lives up to the hype
The Demon X is fantastic so far, I've been riding for a few weeks and can't fault it. Dual motors make a world of difference especially on soft dirt and the suspension makes pretty much anything a smooth ride. Taken some pretty decent trips on it and haven't used more than half the battery yet. Had a small issue with the derailleur hanger from shipping and the support guys knew what it was and how to fix it pretty much instantly.
The Ampd BROS Experience 😎👍!!!
Stop looking elsewhere for your E- Bike . This is exactly where you should be .
Here are the reasons why :-
● Australian company.
● Only top of the line componentry
● Quality check and assurance done here in Australia before shipping and this is then repeated if purchased from approved dealers before customers handover .
● The freedom of purchase selection:-
•ONLINE
•AUTHORISED DEALERS
• PICK UP FROM FACTORY.
● Outstanding customer service care and attention.
With genuine interest in getting you on the right bike.
Now with that I will add an excellent reception to my enquiries by David who was informative, friendly, enthusiastic.
Everyone seriously stop the nightmare of navigating dodgy deals on the internet with highly questionable real world quality.
Buy from guys that care about what they provide and how it is presented.
Speak to real people and allow them to impart their wealth of knowledge and experience.
You will be very glad you did.
By the way my selection is going be a DEMON X 😎👍!!!
Ace Demon x
Love the ace demon x its my 4th e bike very manoeuvrable and fun to ride the only thing i dont like is the really noisy front motor when i have it on people turn around to see what it is .