Aussie's Best
Value Boards
Vortex Performance Series
OVERVIEW
Vortex Carbon Belt Drive Electric Skates - Take to the asphalt and carve up some serious smiles with the Ultimate Board that is designed for riders who demand nothing but the best!
Carve coastlines with Comfort, Performance and a Whopping 55km Range thanks to the Vortex' Samsung 21700 Cell Premium Lithium Battery and Double King Pin Carve Trucks.
The Carbon Belt Drive boards are the ultimate board for maximum torque, acceleration, heat dissipation and the thrill seeker who demands larger wheel options for all terrain adventures.
With Dual 1,500W Belt Drive Motors (3,000W Total) this board can and will deliver serious speeds on BEAST Mode or reduce it back for a more relaxed cruising mode on the Lowest Speed Setting which is also excellent for beginners and riders of all skill levels.
BELT DRIVE VS DIRECT DRIVE 
Want to know more about direct drive and belt drive motors, Read this Article here.
WHEEL OPTIONS 
As a general rule of thumb...
Larger Wheels Eg. 120mm = Faster Max Speed & Less Range / Distance on Charge
Smaller Wheels Eg. 97mm = Slower Max Speed & More Range / Distance on Charge
Wheel Options: 97mm Glow Wheels, 105 or 120mm Cloud Wheels & 155mm All Terrains.
Key Model Features:
Top Speed: 52km/h
Dual Belt Drive 1,500W Motors
Up to 55km Range (on 97mm Street Wheels)
44V / 15AH Samsung 21700 Battery
97mm Street Wheels Included
Full Carbon Fibre Moulded Design
VORTEX CARBON SERIES
Speed & Range
Range Up to 55km* (All Carbon Models)
Top Speed (Carbon) Up to 52km/h
Top Speed (Carbon Pro) Up to 55km/h
Hill Climbing Up to 30%+ Inclines on all Models
Battery
Premium 12S 44V - 15AH Samsung 21700 Li-Ion (All Carbon Models)
Motors
Belt Drive - 5255 / Dual 1,500W with 3,000W+ Output
Direct Drive - 64KV / Dual 1,600W with 3,200W+ Output
Belt Drive Pro - 6368 / Dual 2,200W with 4,400W+ Output
Ride Modes
Mode 1 Low (Minimal Speed & Performance)
Mode 2 High (Medium Speed & Performance)
Mode 3 Beast (Maximum Speed & Performance)
Other Modes Reverse - Change wheel drive Direction
Other Modes Cruise Control - Activated when accelerating at consistent speed for more than 5s
Remote
Multi-Function (ODO, Battery, Speed, Trip, Speed Mode & Forward / Reverse) 
Brakes
Regenerative Electric EABS
Charging
AU 44V - 2.5A
5-6hrs or <3hrs with a Fast Charger (Available for 44V Models Only)
ESC Controller
Next Gen Hobbywing Custom ESC provides industry's best reliability and performance
Construction
Deck Carbon Fibre
Battery Housing Moulded Enclosed Carbon Fibre (Best gutter rash protection!)
Waterproofing IP65 (Battery & Electronics Enclosure)
Wheels & Trucks
Standard Wheels 

97mm Street Wheels
Optional Wheels 120mm Cloud Wheels
Optional Wheels 6" Pneumatic All Terrains 
Trucks Double Kingpin 9" Truck for Ultimate Carving Ability
Dimensions
Weights
Net Weight 9 kg

Max Loading 100 kg on Bamboo & 120kg on Carbon
Inclusions
In the Box: Skateboard, Remote, Charger, T-Handle Tool & Manual
*Disclaimer - Range & Speeds achievable varies and is based on standard 97mm wheels and can vary heavily on other wheels, ride conditions, terrain, weather, loading, motor use and many other factors. Remember to refer to your local authority for legislation on where and how you can operate this device in your area.
Domestic Australian Shipping
We Ship 🚚 FREE in AUS for orders over $100! For orders under $100 a Flat Rate of $8 will Apply. More options and express services are available at the Checkout. This includes Free Delivery on all E-Bikes, Skateboards & Scooters (under 50kg)!
Christmas Delivery
For all Christmas deliveries please take note that no Small Articles will be guarantee'd for Christmas delivery from DEC 15th. For all Bikes and bulky Articles will not be guarantee'd from DEC 8th (WA,NT & TAS will not be guaranteed from December 1st) so be sure to place any orders before these periods or visit a local store for availability in your area.
*Free Shipping Exclusions:
Any Orders under $100 or Oversized Items Over 50kg will incur a $199 Freight Fee to WA, TAS & NT. Items in particular to this surcharge are Sur-Ron Motorbikes & Sumo KAA Speed Fat Boy Scooters.
Fee's will also apply to Australian Remote Locations. Eg. Broome, Macquarie Island, Lord Howe, Thursday Island, Kangaroo Island, Russel Island, Rottnest etc) and we reserve the right to cancel any order to such location or adjust shipping fee's where necessary, we recommend Contacting Us for a Quote if you believe you may be subject to such charges.
Delivery Times vary from 2 ~ 14 Business Days (Excludes Public Holidays & Peak Periods). Remember - Large and Bulky items require more manual handling and may not arrive on estimated delivery day provided by couriers as these dates are based on Small Items.
*Additional Fee's May Apply for Missed Deliveries - Please Ensure you ship to an attended address to avoid any missed delivery.
All orders are packed and shipped securely boxed and items such as bikes, scooters or SurRon motorcycles will require some assembly and/or fitting - refer to our assembly page for assistance, or contact your local dealer to book in for assembly (Assembly fee's may apply).
Note: We do not Ship Large items to any P.O Boxes or Parcel Lockers. (Small Articles can be delivered to P.O Boxes via AusPost when selected at checkout)
International Shipping
Currently we only ship Selected items to New Zealand, UK, Europe and USA for shipping prices please refer to the checkout or Contact us for a Quote. All Prices & Rates are charged in AUD$ and exclude any import taxes or charges.
For full details on Shipping & Delivery please refer to our Shipping Page or Contact Us if you are not sure.
At Ampd Brothers, quality and assurance mean everything to us. That's why we proudly stand behind all our products with our comprehensive Nationwide Warranty! Your satisfaction and peace of mind are our top priorities.
Any warranty, service, or parts-related inquiries should be directed to our dedicated Tech Team for thorough assessment and swift resolution. To initiate your Warranty Claim with us, kindly fill out our hassle-free Online Warranty Request Form, conveniently linked.
If you made your purchase through one of our trusted local dealers, we encourage you to reach out to them first for any warranty related assistance. We value our strong network of partners and are committed to ensuring a seamless experience for all our valued customers.
Thank you for choosing Ampd Brothers for your electric biking adventures!
Eligible Claims
To be eligible to make a warranty claim you must:
Be the Original Purchaser as listed on the Receipt
Lodge your Claim within the Valid Warranty Period from the Date of Receipt 
Warranty Periods:

Ampd Brothers Bikes
2 Years on all Ampd Brothers Adults Electric Bikes Sold from January 1st 2023 onwards.
1 Year on all Ampd Brothers Electric Bikes sold from 2019-2022.
1 Year on all Ampd Brothers Lil Pippa & Kids Electric Bikes
1 Year on All Ampd Brothers Bike Batteries.
Surron Electric Bikes
1 Year or 3,000km's on all Surron Electric Motorcycles.
RFN Electric Bikes
1 Year or 3,000km's on all RFN Electric Bikes and Motorcycles.
Vortex Electric Skateboards
1 Year on all Vortex Electric Skateboards and
6 Months on Batteries and Remotes.
Ex-Demo or Refurbished Products
6 Month's on Electric Bikes Sold as "Ex-Demo" or "Refurbished" items
Parts & Accessories
3 Month's on any Parts & Accessories*
*Excludes items such as Clothing, Apparel, Merchandise, Bags, Tyres, Tubes, Brake Pads, Discs, Serviceable Fluids, Perishables or Wear and Tear items.
What We Cover:
Manufacturers Faults, defects and/or Failure
Original Purchasers of Product where a Receipt is Presentable
What We Don't Cover:
Claims, Damage's or Failure due to..
Misuse (eg. impact, collision or freestyle activities) 
Water, natural disaster, fires, storms or floods
Foreign objects or debris
Incorrect fitment, installation or assembly
Fitment, Repairs or Services undertaken by unauthorised persons or companies unless otherwise permitted by Ampd Brothers
Freight or Transport (Please opt for shipping insurance at the checkout if you require)
Wear and Tear items eg. Tyres, Tubes, Bearings, Brake Pads, Discs, Seats, Perishables or Fluids.
Lack of servicing or upholding the regular maintenance schedule as outlined on Page 14 of the E-Bike Manual.
Modification, Alterations, and DIY Installation of parts or accessories on foreign product that are not supplied as original by Ampd Brothers or where the device is altered from it's original manufacturers state
Any Packaging required to pack items securely to be Returned for Repairs
Products that were won as Prizes in exclusive competitions or giveaways 
 What Happens When I have a Problem?
Contact a member of our team to assist with diagnosing the problem and complete a Warranty Request Form
If a manufacturers fault is established we will ship out the replacement part OR 
If the fault requires a technician to further diagnose, repair or install components we will direct you to one of our dealers near you or a technician for further attention OR
In extreme and isolated cases we will arrange return of the product to us at our own expense.
Note: Items that are required to be returned for repairs will need to be packed securely for freight, of which is the responsibility of the purchaser to ensure that the product is packed securely for this return process. Any Damages caused during freight are not warrantable nor covered by Ampd Brothers.
VOID OF WARRANTY
Ampd Brothers takes customer safety seriously and with this in mind we hereby declare that any modification, alterations, and installation of parts that are not Ampd Brothers parts or supplied as original equipment by the manufacturer are not covered by warranty.
Ampd Brothers will void any product warranty immediately and not take any responsibilities for any problems arising from modifications, alterations, or aftermarket replacement on the following parts (including but not limited to): battery, motor, controller, throttle, transmission system, suspension systems and braking systems, etc.
Such modifications or alterations may pose serious safety risks that could lead to injury or death.
The above mentioned alteration or modification to such parts can pose serious safety risks that could cause injury or even death.
CHOOSE YOUR WHEELS
97MM STREET WHEELS
Included with all boards as standard - the 97mm Streets are the best choice for everyday cruising to achieve maximum range and crisp carving ability!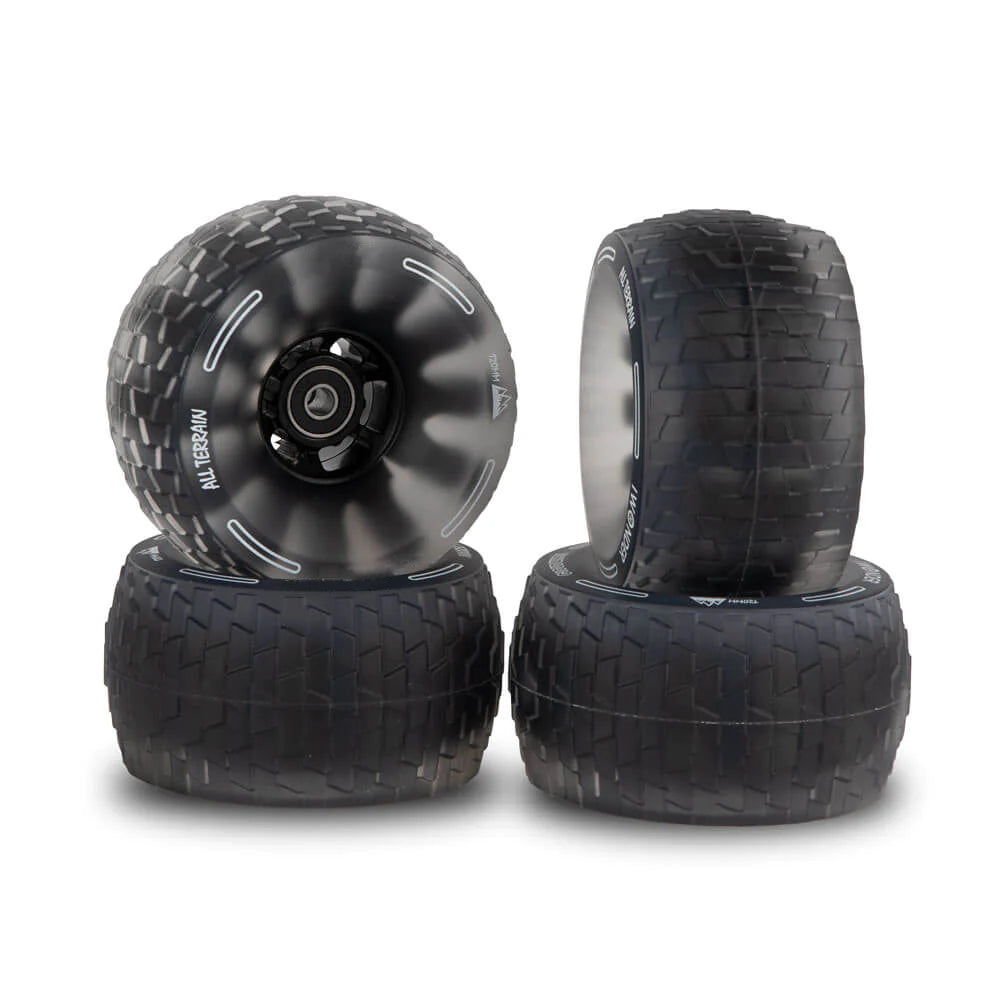 120MM CLOUD WHEELS
Made from a tough compound and unique core, Cloud wheels are the ultimate all round wheels for both road and mild off road tracks! 
6" ALL TERRAINS
Popular amongst those who want maximum ground clearance, our 6" All terrains provide the best all terrain ability for almost any trail or expedition!
DIRECT DRIVE
Provides crisp smooth delivery of drive for the ultimate carving experience as well as excellent heat dissapation and minimal sound.
BELT DRIVE
Provides max levels of torque and acceleration thanks to the pulley gearing, making it the ultimate choice for All Terrain riding ability.
NEXT GEN
HOBBYWING ESC
Now with state of the art motor control algorithms and un-paralleled board to remote communication reliability which provides crisp output of acceleration and smooth braking delivery.
Love my Vortex carbon esk8
Had the Vortex electric skateboard for just over a month and absolutely love it. I'm a 100kg rider but have no trouble getting to 45 klm an hour and I get a range of around 30 klm with 155mm all terrains tyres. I have recently bought a set of Cloud wheels and front and rear lights from Ampd Bros and the service has always been helpful and fast. Highly recommend dealing with these guys. 👍
All our boards include 97mm Street Wheels as Standard.
However all our boards can be optioned with 6" All Terrain Pneumatic wheels OR 120mm All Terrain Cloud wheels!Simply select the option you'd prefer for your ride! 
We recommend Cloud wheels for Direct Drive Boards and 6" All Terrains for Belt Drive Boards for the ultimate board combination.
Note: Black cloud wheels are standard when selected - if you wish to change colour please make note of desired colour on your order notes.
DD Motors are affixed to the boards axle where the wheel mounts onto the side of the motor. They provide super smooth yet crisp delivery of performance and are the ultimate motor for everyday cruising or street carving. Direct Drive Motors are virtually maintenance free, plus are extremely efficient and super silent given they produce no loud belt noises and are fast becoming the motor of choice.
Key Benefits
Incredibly Efficient & Smooth 
Very Quiet & Low Sound Output
Low Maintenance
Ideal for Cruising and Carving
Downfalls
Motor clearance on smaller wheels isn't ideal, although motor protective covers are easily replaceable and in-expensive.
BD Motors are mounted off the back of the boards axle (and in some cases off the front) which then drive a belt via a pulley that adapts to the wheel allowing more ability to change gearing variations to alter the performance, torque or range characteristics depending on the type of wheels and tooth of adapters used. Thanks to this gearing the motors will provide phenomenal amounts of torque and acceleration comfortably.
Key Benefits
Ultimate in Torque & Acceleration
Excellent Heat Dissipation
Ideal for All Terrain Capability
Downfalls
Can be quite loud and noisey 
Require's more tuning and maintenance of belt tensions etc
Up to 100kg on Bamboo Series and 120kg on our Carbon Series.
Completely Free within Australia on all our Boards! For international quotes please contact us.
We dispatch orders every business day when placed before 12pm. Delivery generally takes 2-3 business days for most metro cities and 5-7 days for WA/NT/TAS and rural areas.
As a general rule of thumb...
Larger Wheels Eg. 120mm = Faster Max Speed & Less Range / Distance on Charge
Smaller Wheels Eg. 97mm = SlowerMax Speed& More Range / Distance on Charge
Remember when you change wheels to also adjust your boards wheel size settings in your remote.
★★★★★

My Vortex Carbon is an absolute machine! Amazing performance and range and incredible finish.

Todd Allen

Brisbane, QLD
★★★★★

Best value, quality products about also the best aftersales service I've ever experienced. Highly Recommend.

Anthony O'Neil

Melbourne, VIC
★★★★★

Ordered online, fast dispatch & delivered in 2 days! Wow super fun bikes! Thanks heaps Ampd!

Thomas Lohmann

Gold Coast, QLD
★★★★★

Bought the bamboo board for my partner and he LOVES IT. Hands down best gift ever. So much fun.

Shirley Carter

Perth, WA
★★★★★

Great guys, Awesome service, easy process, great range and parts always available!

Bernard Witham

Cairns, QLD