Our Sleekest
Beach Cruiser Ever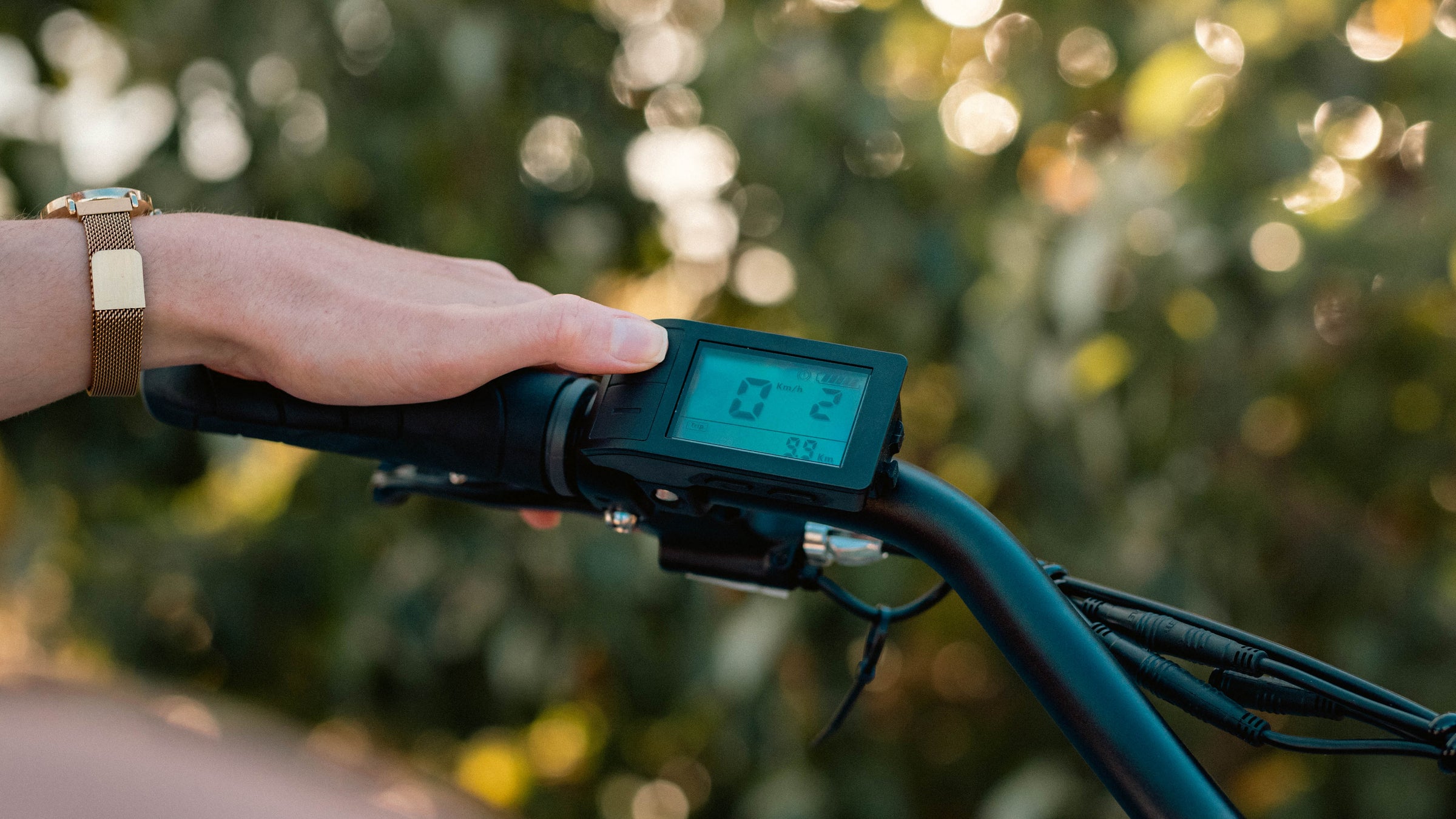 LCD Display
With USB PORT
Built with the Best
Premium
Paint Finishes
With so many new vibrant premium colour finishes for this year, you'll be sure to find a Riptide that matches your personality and style perfectly! Plus unlike other brands, all our Batteries on the Riptide Series are custom colour coated to match your bikes frame seamlessly.
Driven By Bafang
500W Hub Motor
As the industries leading manufacturer of e-bike motors, it makes sense to partner with Bafang. Known for their huge levels of Torque and Performance, the Gear Drive hub motor will challenge all expeditions with ease.
DURO BEACH BUM
STREET TYRES
Designed for adventurous riders, the Duro Beach Bum 26x3.0" fat tyre's are the ultimate for everyday cruising, while the low profile tread pattern provides excellent traction and cornering control, making them a great all-around option.
Yes sure you can unlock your bike to the maximum speed the motor is capable of producing. But take note of the regulations in your area as doing so may deem your bike legal for off road private property use only. Be sure to check the speed limit in your area but typically speaking exceeding 25km/h is not legal practice in most states.
Yes sure! We do have them available as optional accessories here, but keep in mind throttles are only legal on Private Property only hence why we do not include them with any of our bikes.
In virtually all states you do not need a licence or require any registration to ride an E-Bike, although if you are found to be riding under the influence of alcohol or exceeding the 25km/h speed limit for example, you may be penalised against your drivers licence.
All Australian states follow the same basis of rules which are established off the European standard EN15194.
In essence all e-bikes must;
Not exceed 250W (Some states eg. NSW is 500W)
Be propelled purely by pedal assist only and the pedals have to be used to keep the motor operating (a pedalec)
Must not be operated purely by Throttle
Must not be capable of exceeding 25km/h 
Abide by local law such as, wearing helmets, riding within speed limits in set areas etc
So the short story is that e-bikes are legal to use in Australia yes! 
Be sure to check with your local authority as to any other regulations in your area.
All our E-Bikes come securely boxed and are shipped 80% assembled and do require some assembly. Should you need assistance you can checkout our YouTube for assembly videos or you can also refer to a store near you for bike builds and service.
Generally bike delivery will take longer than most small size articles as they are bulky and require more manual handling so on average to most major cities is approx a 5-10day delivery time. For more rural areas and NT, WA or TAS you should expect to see 14 days or more for your order to arrive.
We have a bunch of dealers across Australia who carry our range and provide after sales support. Checkout our list of dealers here and be sure to give them a call to check stock availability, they may even be able to order a bike in for you to view otherwise. If not be sure to call us and we may be able to arrange for you!
All our Ampd Brothers range of electric bikes come backed by our 2 Year Nation wide warranty! So you can ride worry free always!
Checkout the full terms and conditions here.
Our bikes are resistant to approx IP65 and are extremely weather resitant to rain etc. however as best practice we always advise to avoid water as much possible as even though they are extremely capable, water can create a lot more maintenance than necessary sooner rather than later!
Unfortunately we only offer selected tyres pre-installed as standard on our bikes. However we do have a huge range of tyres available as additional parts for all our bikes including street, mud or even white wall tyres!
Checkout the tyre range here.
Good bike
Good bike I recommend to buy it ,strong and powerful , nice design
Best Bike ever
For the price this bike is a beast not a damn thing that i can say is wrong with it 100% get yourself one if you are after a good Ebike :)
Ride the Lightning
What an understatement, the Riptide 2 Beach Cruiser is so totally "fit for purpose" it is the best unit for the money I could have obtained after a lot of research. On the beach, on the track, or on the road, this bike performs better than could have been expected. Delivery in 3 days, easy assembly, really good looks, this unit is pure magic, well done Ampd Bros.
Awesome Bike & Service
5 stars For this business The riptide Electric beach cruiser Bike is just what i needed to get around town everybody notices it and asked where did i get it from fast delivery very happy would highly recommend if in the market check them out