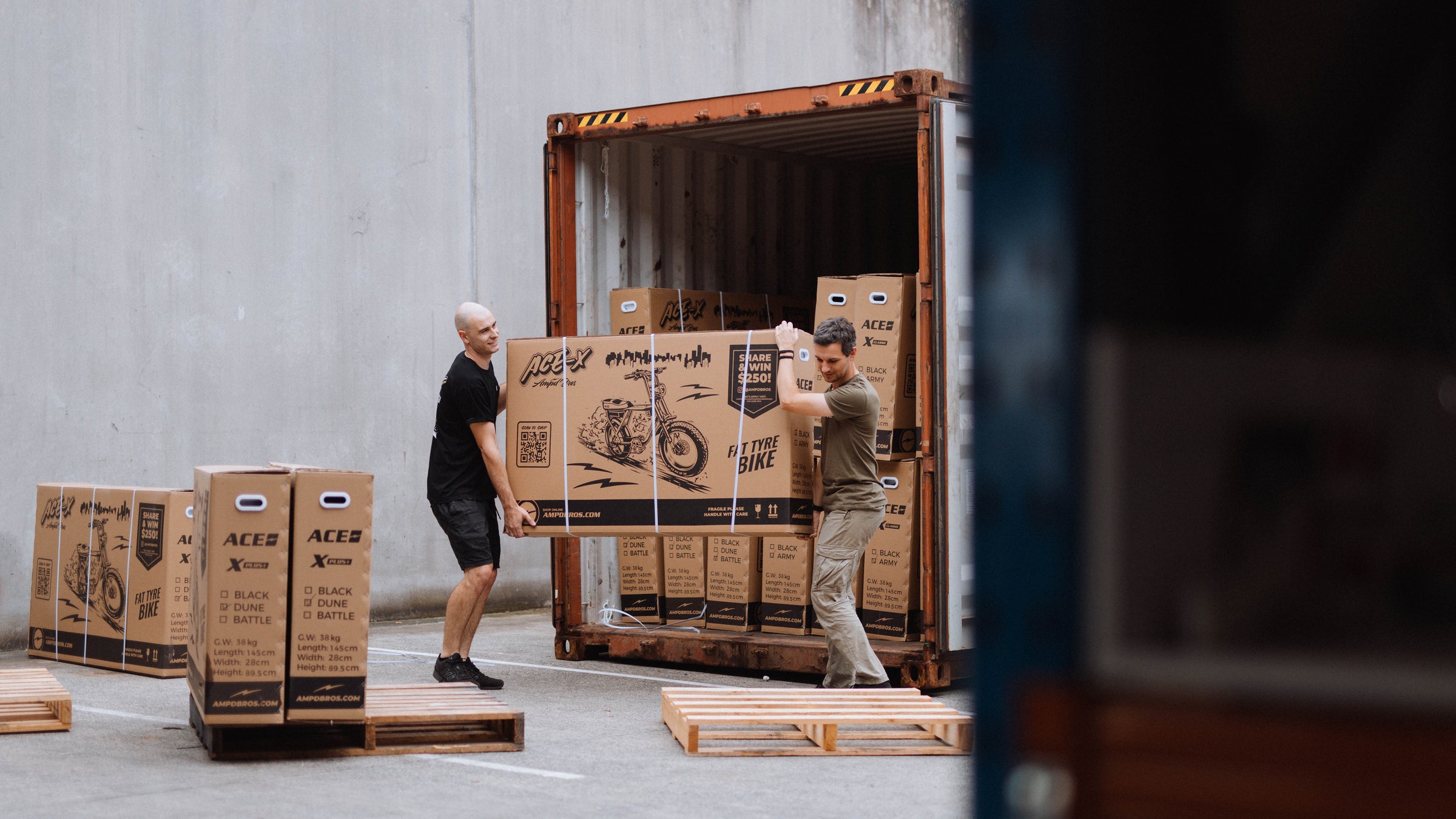 Signature Warranty
At Ampd Brothers, quality and assurance mean everything to us. That's why we proudly stand behind all our products with our comprehensive Nationwide Warranty! Your satisfaction and peace of mind are our top priorities.
Any warranty, service, or parts-related inquiries should be directed to our dedicated Tech Team for thorough assessment and swift resolution. To initiate your Warranty Claim with us, kindly fill out our hassle-free Online Warranty Request Form, conveniently linked below.
If you made your purchase through one of our trusted local dealers, we encourage you to reach out to them first for any warranty related assistance. We value our strong network of partners and are committed to ensuring a seamless experience for all our valued customers.
Thank you for choosing Ampd Brothers for your electric biking adventures!
If you have purchased at a local retailer, please refer to them for support first.
Eligible Claims
To be eligible to make a warranty claim you must:
Be the Original Purchaser as listed on the Receipt
Lodge your Claim within the Valid Warranty Period from the Date of Receipt 
Warranty Period's
Select a product below for the specific warranty periods on that range.
2 Years on all Ampd Brothers Electric Bikes Sold from January 1st 2023 onwards.
1 Year on all Ampd Brothers Electric Bikes sold from 2019-2022.
1 Year on all Ampd Brothers Lil Rippa & Kids Electric Bikes
1 Year on All Ampd Brothers Bike Batteries.
1 Year or 3,000km's on all Surron Electric Motorcycles.
1 Year or 3,000km's on all RFN Electric Bikes and Motorcycles.
1 Year on all Vortex Electric Skateboards and
6 Months on Batteries and Remotes.
6 Month's on Electric Bikes Sold as "Ex-Demo" or "Refurbished" items
3 Month's on any Parts & Accessories*
*Excludes items such as Clothing, Apparel, Merchandise, Bags, Tyres, Tubes, Brake Pads, Discs, Serviceable Fluids, Perishables or Wear and Tear items.
What We Cover
Manufacturers Faults, defects and/or Failure
Original Purchasers of Product where a Receipt is Presentable
What We Don't Cover
Claims, Damage's or Failure due to:
Misuse (eg. impact, collision or freestyle activities) 
Water, natural disaster, fires, storms or floods
Foreign objects or debris
Incorrect fitment, installation or assembly
Fitment, Repairs or Services undertaken by unauthorised persons or companies unless otherwise permitted by Ampd Brothers
Freight or Transport (Please opt for shipping insurance at the checkout if you require)
Wear and Tear items eg. Tyres, Tubes, Bearings, Brake Pads, Discs, Seats, Perishables or Fluids.
Lack of servicing or upholding the regular maintenance schedule as outlined on your manual. See Manuals Here
Modification, Alterations, and DIY Installation of parts or accessories on foreign product that are not supplied as original by Ampd Brothers or where the device is altered from it's original manufacturers state
Any Packaging required to pack items securely to be Returned for Repairs
Products that were won as Prizes in exclusive competitions or giveaways 
What happens when I have a problem?
Contact a member of our team to assist with diagnosing the problem and complete a Warranty Request Form
If a manufacturers fault is established we will ship out the replacement part OR 
If the fault requires a technician to further diagnose, repair or install components we will direct you to one of our dealers near you or a technician for further attention OR
In extreme and isolated cases we will arrange return of the product to us at our own expense.
Note: Items that are required to be returned for repairs will need to be packed securely for freight, of which is the responsibility of the purchaser to ensure that the product is packed securely for this return process. Any Damages caused during freight are not warrantable nor covered by Ampd Brothers.
Void of Warranty
Ampd Brothers takes customer safety seriously and with this in mind we hereby declare that any modification, alterations, and installation of parts that are not Ampd Brothers parts or supplied as original equipment by the manufacturer are not covered by warranty.
Ampd Brothers will void any product warranty immediately and not take any responsibilities for any problems arising from modifications, alterations, or aftermarket replacement on the following parts (including but not limited to): battery, motor, controller, throttle, transmission system, suspension systems and braking systems, etc.
Such modifications or alterations may pose serious safety risks that could lead to injury or death.